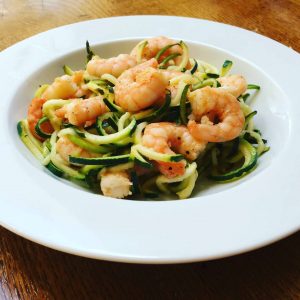 Shrimp Zuchini Noodles
Packed full of flavor and super light meal, we really enjoyed this one and you really do forget that its not pasta.
Place a large pan over medium-low heat. Add the coconut oil and heat it for 1 minute. Add the garlic and and cook for 1 minute.

Add the shrimp cook until pink on all sides approx 3 mins. Season with salt and pepper and then transfer them to a bowl, leaving any liquid in the pan.

Increase the heat to medium. Add the white wine and lemon juice to the pan cooking the wine and lemon juice for 2 minutes. Add the zucchini noodles and cook, stirring occasionally, for 2 minutes then mix the shrimp, season and garish with parsley to serve.