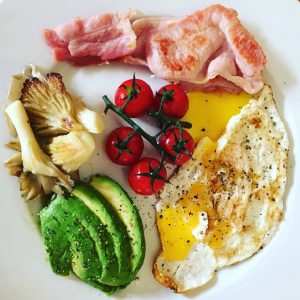 Fill Me Up Breakfast
Somedays you make a breakfast and it looks so nice you don't want to eat it ;-) Who am I kidding nothing looks that nice!
Put large frying pan on med/high heat and add coconut oil.

Once oil is melted add in the mushrooms, tomatoes and bacon.

When the mushrooms start to brown add the eggs, once they are done nearly dont flip them over for the last 20 seconds.

Chop the avocado to serve garnish with pepper.