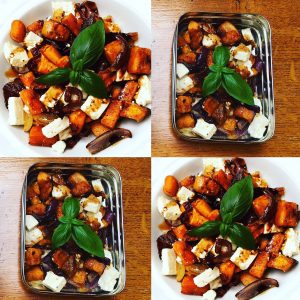 Fayesfitbox Roasted Sweet potatoes
What a tasty combination this is, roasted sweet potato & caramelised onion with feta cheese and a drizzle of balsamic vinegar. This dish is excellent hot or cold so works for an office lunch.
Preheat oven to 180f whilst preparing the pnions and sweet potatoe.

Get a large baking tray and add the coconut oil, sweet potatoe and red onions. Season with salt and pepper.

Put the veg into the oven for 50 mins checking on and stirring every now and then.

Dice the feta and take the potato out of the oven pour into a bowl and mix together then drizzle the balsamic on top.