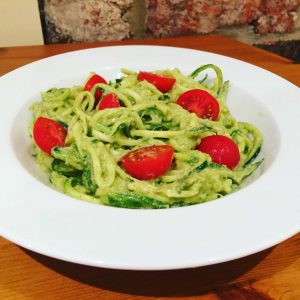 Spiralized Creamy Avocado Zucchini Pasta
Creamy avocado and pesto zuccini pasta without the cream. This is such a healthy meal bursting with flavour and absolutely no guilt, we love it.
Ingredients
1

clove

garlic

cup

½fresh basil leaves

1

Tbsp lemon juice

2

Tbsp extra virgin olive oil

Water as needed

Salt and pepper to taste

2-3

inch

zucchini

spiralized or cut into ¼wide strips

10

cherry tomatoes

1/2

handful parmasan flakes optional
Instructions
n a processor, blend avocado, garlic, basil leaves and lemon juice until smooth, then mix in extra virgin olive oil.

Add water, 1 Tbsp at a time, until sauce reaches a fluid yet thick consistency.

Add a dash of salt and pepper to taste.

Saute zoodles on stove over medium/high heat until slightly soft and bright green. Drain excess water.

In large bowl, toss zoodles with sauce, then top with tomatoes and parmesan cheese. You made not need all of the sauce, so add it until you've reached your liking.