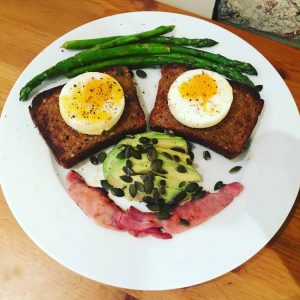 Happy Face Breakfast
Now this is a super special breakfast and its great with or without rye bread. I recommend eating carbs after a workout when your body is burning like a furnace.
Ingredients
2

Eggs

2

slices

Nitrate free organic Bacon

5

stems

Asparagus

2

slices

Rye bread

1

tablespoon

Coconut oil

1/2

Avocado

1

tbsp

pumpkin seeds
Instructions
Put your grill on to a med to high heat.

Meanwhile yourself a wide, deep pan and fill it with boiling water from the kettle. Bring it to a light simmer over a medium heat, add a pinch of sea salt.

Place bacon and asparagus under grill turning the asparagus at regular intervals and the bacon once until cooked to your liking.

Crack one of your eggs into a cup and gently pour it into the water in one fluid movement. Repeat with the rest of the eggs. Depending on your pan, a really soft poached egg should take around 2 minutes and a soft to firm one will need 4 minutes (it depends on the size of the eggs). To check whether they're done, remove one carefully from the pan with a slotted spoon and give it a gentle push with a teaspoon. If it feels too soft, put it back and give the eggs a minute or two more in the water to firm up.

When they're ready, remove them to some kitchen paper to dry off and a sprinkle of sea salt and freshly ground black pepper.

Place the rye bread in the toaster.

Remove skin off avocado, slice and place on plate with rye bread and place the eggs on top.

Serve with the bacon and sprinkle seeds over the avocado.